Although Chet likes to work in a realist tradition, he worked in a more abstract manner in his early career. "Faneuil Hall Square" is an example of that style. In addition he has caught and painted interesting street scenes from around the world including "Old Genoa Lady with Cat."
This category is a potpourri of subjects that don't fit easily into other categories. Some of Chet's favorites to this point are the "Old Genoa Lady with Cat," (which has hung over his fireplace for forty years) and "Boston's Faneuil Hall Square Morning."
---
Bar Harbor at Dawn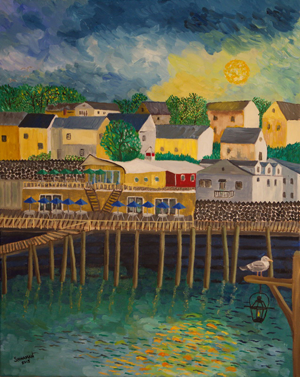 | | | |
| --- | --- | --- |
| | Oil on Linen, 24 x 30 inches | |
The Sun Rises Over the Harbor Town
Who can resist getting up early on a summer's day in Bar Harbor, Maine. The screech of the sea gulls combines with the cool stillness of the bay as the homes and businesses prepare to open for the new day. Across the water lobster boats accept provisions and fisherman from land craft to begin their journeys into the deep. It's too early for the breakfast and lunch crowds to begin visiting the two level bistro on the boardwalk.
---

Bar Harbor at Night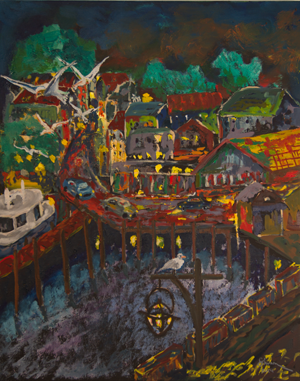 | | | |
| --- | --- | --- |
| | Oil on Linen, 24 x 30 inches | |
A Summers night in Bar Harbor
Once the sun has gone down, the town of Bar Harbor comes alive with the lights of restaurants, the vehicles and their reflections on the tourists moving through the narrow streets. Finding a place to order fresh lobster is not a problem, and after you are done you can walk it off looking into the shops and art galleries. There are also a number of places specializing in hiking and camping gear. You'll need some of that to visit Cadillac Mountain.