Over the last forty years, Chet Shinaman has traveled around the State of Florida locating and then photographing and drawing scenes that are of interest to him. Chet paints nautical scenes including shrimp and lobster boats in Florida and in Maine. He often contrasts discarded wrecks with working boats.
---
Bar Harbor Dawn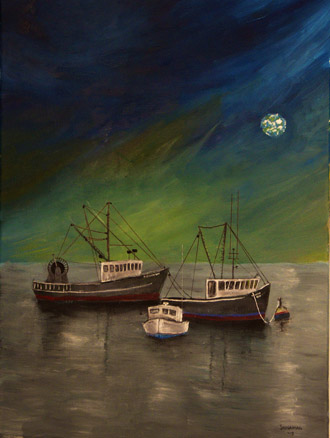 | | | |
| --- | --- | --- |
| | Oil on Linen, 18 x 24 inches | |
Lobster Boats Prepare to go to Sea
Who can resist getting up early on a summer's day in Bar Harbor, Maine. The screech of the sea gulls combines with the cool stillness of the bay as the homes and businesses prepare to open for the new day. Across the water lobster boats accept provisions and fisherman from land craft to begin their journeys into the deep. It's too early for the breakfast and lunch crowds to begin visiting the two level bistro on the boardwalk.
---
Mayport Discarded Shrimper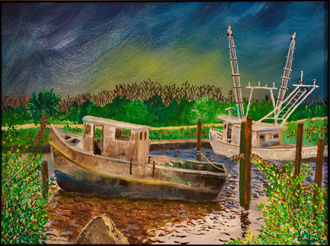 | | | |
| --- | --- | --- |
| | Oil on Board, 16 x 12 inches | |
A Discarded Shrimper Languishes near an Active Shrimper
Tucked along the inlet from the Atlantic Ocean in Mayport, Florida, an industry of shrimp fishermen has survived for several centuries and before then by the Paleolithic Indians. But the useful life of shrimp boats eventually plays out and the one depicted here has lost its usefulness to its owners who now operate a brighter, newer boat seen at the dock in the background. This brave little Forgotten Shrimper who for decades kept its sailors safe on the seas and provided them with a livelihood now languishes in its own private graveyard.
---
Tarpon Springs Shrimpers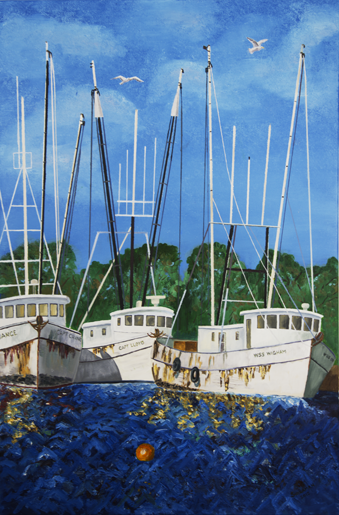 | | | |
| --- | --- | --- |
| | Oil on Linen, 36 x 24 inches | |
Tarpon Springs Shrimpers docked after a hard day's work in the Gulf of Mexico
You can find hard working shrimper boats in port on weekend mornings. Across the inlet the tourist town of Tarpon Springs has many fine restaurants and gift shops that offer the same food and articles that you can buy around the Acropolis.
---
Mayport Shrimpers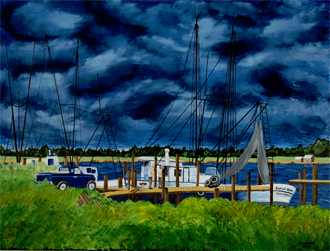 | | | |
| --- | --- | --- |
| | Oil on Linen, 24 x 18 inches | |
Mayport Shrimpers docked along the St. Johns River
Close to where the St John's River meets the Atlantic, a group of hard working fisherman still brave the elements daily to make their catch. You can go out and meet them in the early evening and buy pounds of fish and shrimp directly from their iced barrels.